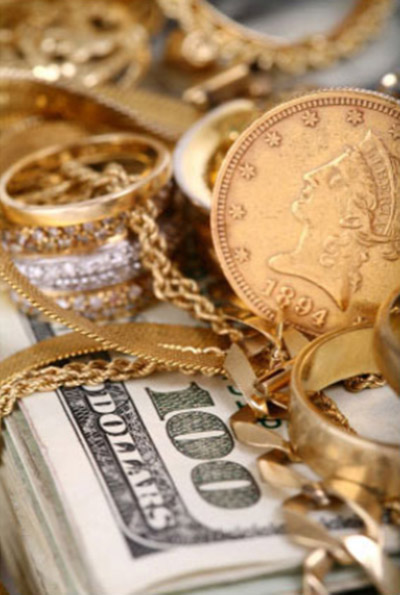 Best Place to Sell Gold in Michigan Today, Get the Most for Your Gold Jewelry, Best Price Paid for Gold per Gram Today, Daily Gold Price
Current Gold Prices Paid By
Andre's Fine Jewelers for GOLD
Today November 29th, 2023

14K Gold Prices, 10K Gold Prices, 18K Gold prices Paid Today. Platinum and Palladium prices paid today.
Karat

Price/ Gram

(g)

Price/ Pennyweight

(DWT)

14k

$31.55

$49.06

10k

$22.34

$34.73

18k

$41.33

$64.27

21k

$48.22

$74.98

22k

$51.68

$80.36

Plat

$19.18

$29.82

Pall

$18.44

$28.68
15 grams+ Price

Highest Price Paid in Michigan for Gold!
Shop around first and come to us last; we'll prove it to you.
NO Minimums!
Andre's Fine Jewelers answers the question of where to sell gold and where to sell your gold jewelry.

Whether you would like to sell gold or sell gold jewelry, Andre's Fine Jewelers, Michigan's premier gold buyers, will take the time to explain all aspects of selling your scrap gold. Andre's Fine Jewelers will prove to you that we are the best place to sell gold. You will be greeted in the safe and pleasant environment of our showroom in downtown Brighton, Michigan to sell your fine jewelry. Our expert staff will evaluate your gold and platinum jewelry and quote you a price after analyzing it. As gold dealers, we also buy gold coins and gold bullion.
We understand that customers wanting to know where to sell gold can find information from other gold buyers and gold dealers to be confusing. Andre's Fine Jewelers lists our gold price in both grams and pennyweights. This allows our customers to compare with other cash for gold buyers that are misrepresenting their scrap gold prices by quoting in pennyweights only.

Our Commitment
We weigh and test your gold in front of you.
We post and update our prices daily on our website.
The price of gold you see advertised for that day, is what you will get paid on that day.
Do your homework, shop around, and come to us last. We'll prove to you Andre's pays the most.
No hidden fees. The posted prices are what you get paid.

Our Findings
Unethical online gold buyers will display a gold calculator that shows the value of 14K gold at market prices. NOT THE PRICE THEY WILL PAY YOU. 
Predatory buyers will not post the actual price on their website.
Unscrupulous buyers will try to convince you we will not pay the price advertised. They will tell you this price is only for new or select items, or resalable items. This is not true! We buy all types of gold items at that price.
Web based (and sometimes local) buyers often quote their price in pennyweights (dwt) to make the payout price appear higher.
Their web advertised pricing may not be what you get paid, especially if their web site does not show daily pricing.
They may tell you the advertised price is for large quantities
Ask how much a gram you are being paid, and multiply that by the weight on the scale.
Beware of buyers asking you how much you want for the items; they try to prey on the lack of knowledge of the customers.
If you saw an advertisement on the internet with a price paid for 14kt gold, make sure to ask if that price is valid on the day you are calling, and verify you are getting what you got quoted.
Charity gold buyers who may solicit your gold through church will not pay you the best price. You are paying for the convenience and they will take a big portion as profit. To maximize your donation, come to Andre's Fine Jewelers. We always pay you the most so your donation will be more powerful.

Live Gold Price Interactive Chart
Live Gold Price Interactive Chart



Andre's Fine Jewelers answers the question of
Where Can I Sell Gold?
Please Call us with any Questions

during business hours
Tuesday Through Friday 11:00 to 6:30
Saturdays 11:00 to 4:00
TOLL FREE at
(877) 91-ANDRE
(877) 912-6373
Please E-mail Questions to us anytime by clicking the Contact Us link.
If you are looking to sell gold, sell gold jewelry or sell gold coins, Andre's Fine Jewelers is the perfect company to maximize your CASH PAYOUT!!!

Competitors Pricing
The following is a random sampling of our competitors offers to buy 14K gold compared to Andre's Fine Jewelers offer at the exact same time and date or a Secret Shopper sale on the same date.
Solid Gold & Silver Jewelry Inc
Hartland, MI
9/10/14 - Secret Shopper
Solid Gold & Silver - $12.98/gram
Andre's - $19.50/gram
Edmund T Ahee
Grosse Pointe, MI
6/12/12 - 12:00pm
Ahee - $19.01/gram
Andre's - $25.50/gram
Genesee Valley Gold & Silver
Howell, MI
9/12/14 - 11:40am
Genesee - $14-15.00/gram
Andre's - $19.00/gram