Since birth, your name has been at the center of your identity. In fact, babies respond to verbalize it. But even when they are just a half-year old, babies know who they are. They know that their name isn't "Mama" or "Dada." They know that the dog has a different name. They know who they are.
With your name so closely tied to the center of your identity, many folks with an entrepreneurial spirit have emblazoned a variety of names on all sorts of objects, from pencils and mugs, to keychains and magnets. In my experience, most of these objects are acquired in tourist traps and soon find themselves taking up residence in the garbage. One of my sons is likely to never have vacation keychains to throw away, though, as I have given him an unusual name. My husband and I named all three of our sons after Biblical figures. Our first son is Elijah, then Levi, then Judah. Poor little Judah. Judah will never find a name magnet. Levi may have a challenge finding a novelty bicycle license plate too. Although, honestly, I'm not sure they would care. I imagine though, that a girl would.
Unique names have these problems all the time. And it doesn't feel great to look through racks and racks of pre-made items only to come up empty. Fortunately, there is one place where you will ALWAYS find your name. And that is in our showroom in Livingston County Michigan, right in downtown Brighton. Each name is custom designed upon order, grown in house on our 3D printer and finished by our expert jewelers.
Our jewelers have taken the time to carefully create a custom line of name jewelry. Our Blocks of Love™ family of jewelry is focused on showcasing the identity of each and every one you hold dear…even if it's just you. The collection all started with the original Blocks of Love pendant, which was inspired by mother's jewelry. Just as children make stacks of letter blocks, the Blocks of Love collection features pendants created by carving (from one solid piece) a stack of letters (similar to a stack of letter blocks) to make the child's name. At the bottom of the pendant is a place for a gemstone to be placed (usually the birthstone of the name-bearer). Mothers all over the country have had their children's names made into pendants. And since we do all of the designing and manufacturing in-house, we are able to make any name at all.

But Blocks of Love isn't just for mothers. I mean, my mother has a Blocks of Love necklace with all four of our names and birthstones on it. But you know what? I have my own Blocks of Love necklace with my name. And although it isn't my birthstone, I had my necklace made with a diamond in it.
Unlike a traditional pendant with a bail, the Blocks of Love has slits cut in the sides, allowing the necklace chain to pass through. But this adds depth to the necklace. For those who prefer a slimmer profile, the Blocks of Love Name Bar necklace might be a better fit. It is similar to the Blocks of Love but has a flatter profile, because the chain is attached in a different way. The Name Bar necklace is also oriented horizontally rather than vertically. On the top corners of the bar are small loops to which the chain is attached. But just like the Blocks of Love, the Name Bar necklace can be custom-made to fit whatever name you can throw at us.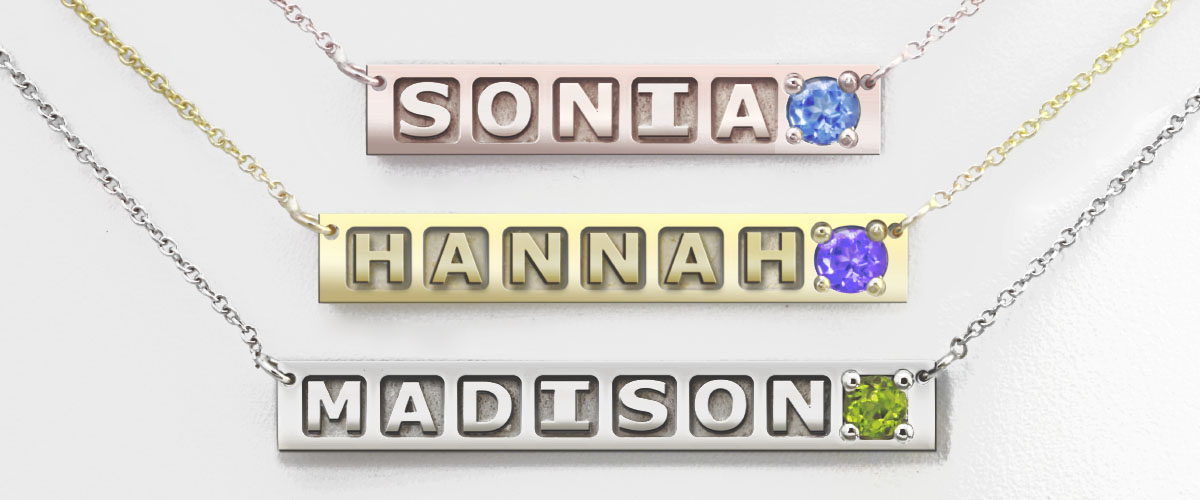 Another type of name jewelry is the nameplate necklace. Nameplate jewelry has been worn predominantly by women, across many cultures, social statuses, and economic backgrounds. With style and fashion constantly evolving to include ever-broader and more global inspirations, nameplate jewelry is experiencing a mainstream resurgence. Nameplate necklaces are most often made in a cut-out script font, with the wearer's name as one continuous piece, with loops on each end that connect to the chain. Nameplates also often have embellishments, like underlining, swooshes, or icons. Like all the name jewelry at Andre's Fine Jewelers, the nameplate necklace can be made, no matter how unique or rare your name.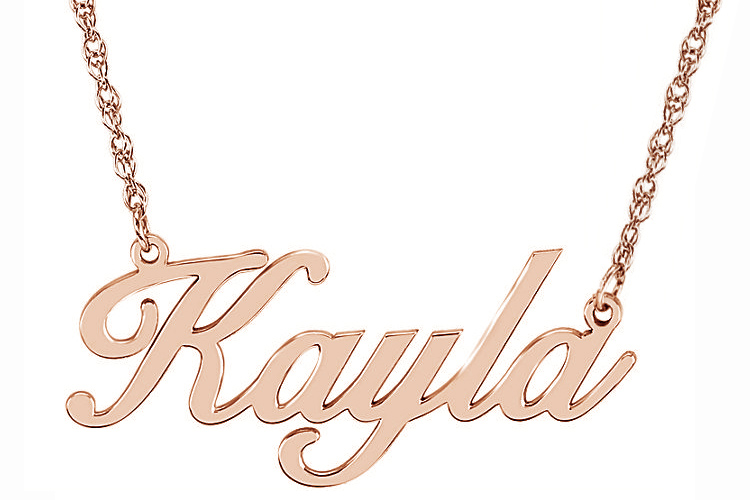 Andre's Fine Jewelers can make all of the custom name jewelry we have covered today in 14k or 18k yellow, white, or rose gold, or sterling silver. Gemstones and other embellishments (which are particularly popular with nameplate necklaces) can be added too. To start your own jewelry tradition of proudly wearing your identity around your neck, visit our downtown Brighton showroom at 425 W Main Street, or call to chat with our jewelers at 810-225-1414.
Until next time,
Rebecca