We all know that the bride should be the center of attention on her wedding day. After all, the wedding is the reason everyone got all dressed up in the first place. All eyes will be on the bride, admiring her beautiful gown, veil, hair, makeup, shoes and of course, her jewelry.
But let's be honest – folks will also be checking out the other guests and mentally ranking everyone's fashion choices. To be sure your own look can hold up under the scrutiny, consider these great jewelry ideas for wedding wear.
---
Mother of the Bride or Groom
Probably the first look that pops to mind is a nice pearl necklace. This is a classic, elegant and timeless choice, especially in the summer months. Pearls are versatile and look polished with almost any style dress. A choker or shorter length pearl strand looks best with a higher neckline, as it lays around the collarbone and doesn't get lost against the fabric of the dress. For a lower neckline, choose a longer strand that drapes into your cleavage just a bit. Or if you want to really make a statement, select an opera-length strand 36 to 42 inches long and tie it in a loose knot. Pair any of these with pearl drop earrings, perhaps accented with diamonds, and you have a terrific jewelry look.
Of course, no one wants to be predictable, and maybe you think pearls are just that. Well then, go big or stay home! Make a grand entrance to that formal evening reception in a dazzling display of glittering diamonds, like these pear-shaped diamond drop earrings. Match them with this graduated diamond tennis necklace and this platinum vintage diamond bracelet to complete the ensemble, and you will be shining as brightly as the bride's smile.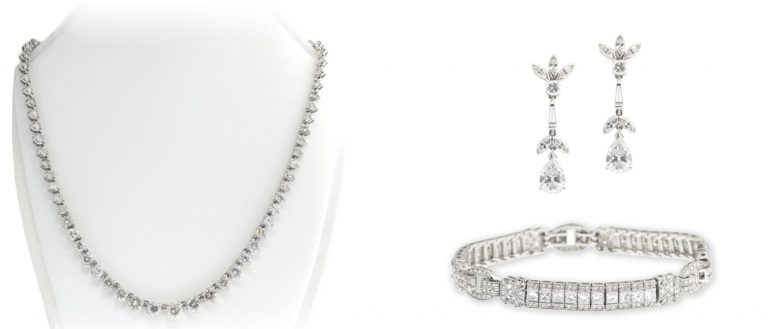 Perhaps the reception is an outdoor affair and you're thinking that all those sparkling diamonds might be a bit much. No problem! For a more understated and colorful style, consider accenting your gown with precious gems like emerald, sapphire, ruby, or tanzanite. These vibrant gemstones take a simple, monochromatic dress and really make it stand out. Think about how striking a rich green emerald or deep red ruby will look against lush black velvet. Or picture a cool dove-gray satin enlivened with the blue of a fine Ceylon sapphire or the deep purplish-blue of tanzanite. Any of these gorgeous gemstones is a perfect choice to accessorize your wedding finery.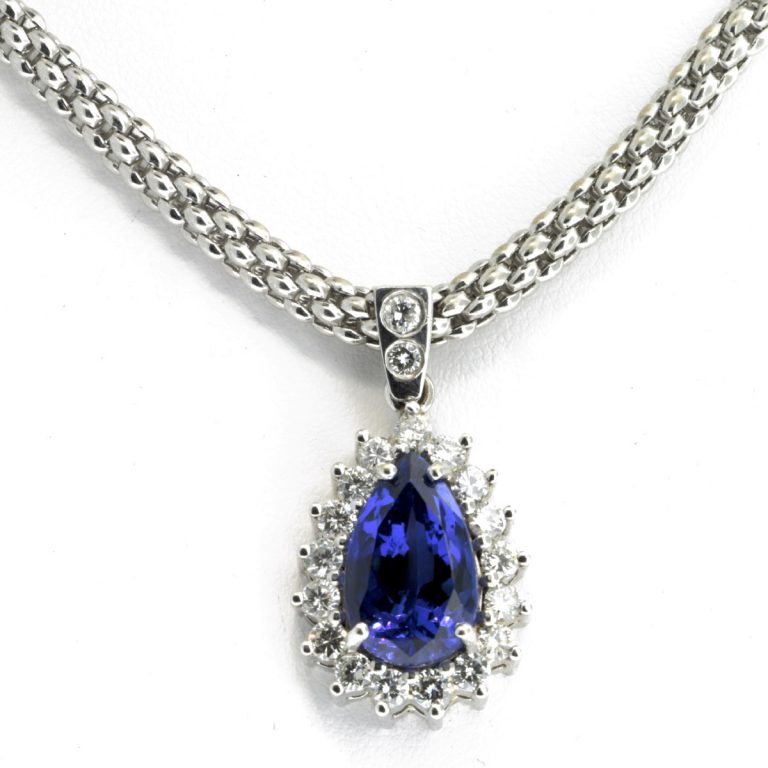 Not all that glitters must be gold either. You can achieve the opulent look you desire without going broke. Nowadays, you can find sterling silver pieces that are so well made and tasteful, no one will even suspect they aren't actually gold and diamond or gemstone creations. Many designs are plated with real yellow or rose gold, to give the appearance of the precious metals at a fraction of the cost. These items usually also incorporate simulated gemstones or pearls, for a lavish look that doesn't break the bank!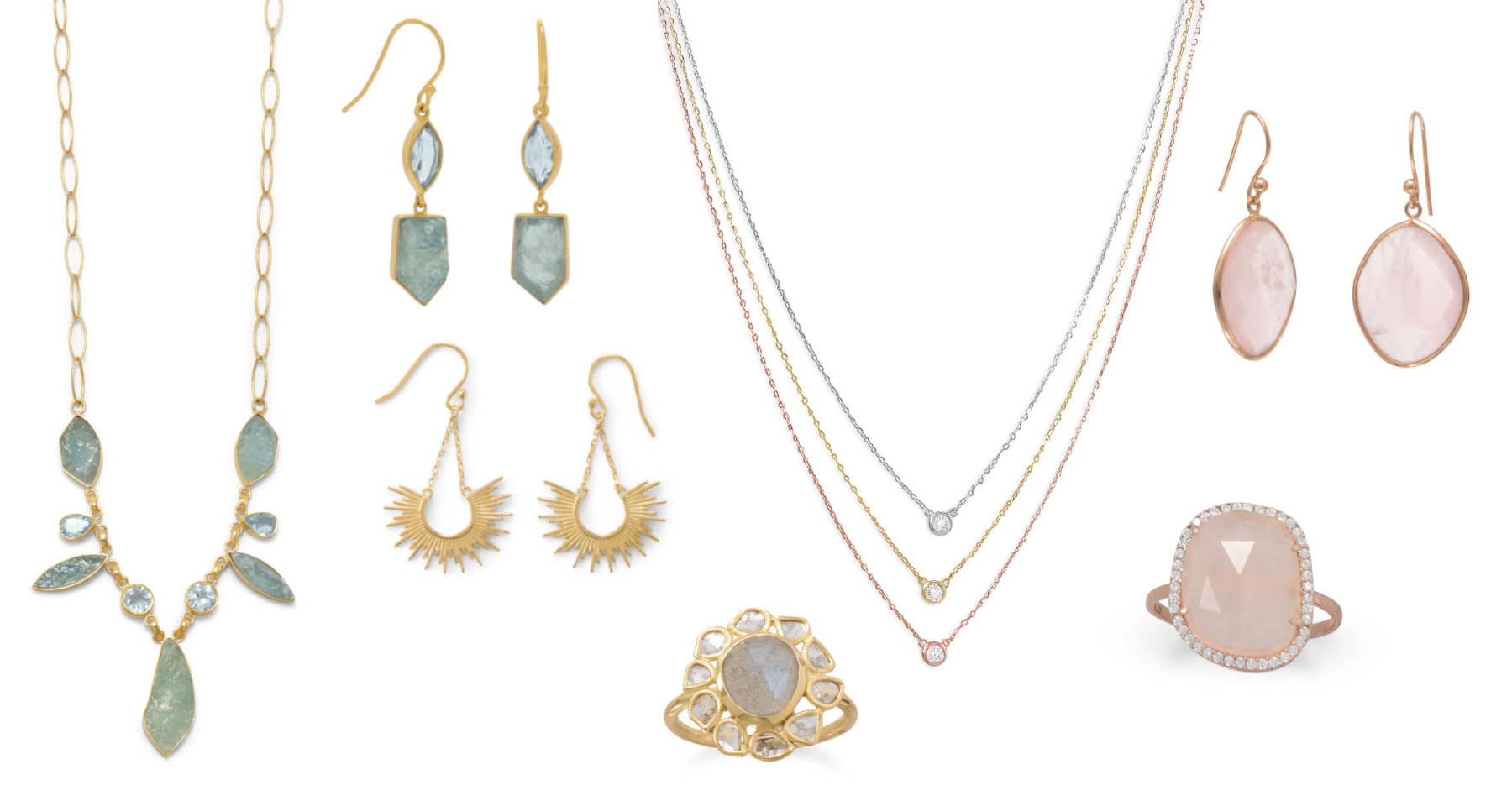 Yellow and rose gold plated jewelry are a smart and affordable way to get that perfect look
---
Bridal Party
Often forgotten in the wedding planning is what the bridal party will wear. Sure, the bride has had her say about the bridesmaid dress, and may even have given everyone a special necklace or earrings to wear for the wedding. But what do you do about the rest of the jewelry? And what about those occasions where the bridesmaids are on their own for everything?
The best course of action for bridesmaids is to take their cue from the bride herself. Ask her if she wants everyone to have matching jewelry, or does she want each bridesmaid to have her own unique look. Many brides today are choosing to have the bridesmaids wear dresses of different styles, but in matching fabric. This is great for the bridal party to be able to show individuality yet still be a coherent color scheme. If you did receive a gift of jewelry to wear, accessorize to that piece. Add your own earrings, pendant or bracelet to coordinate with the jewelry you were gifted.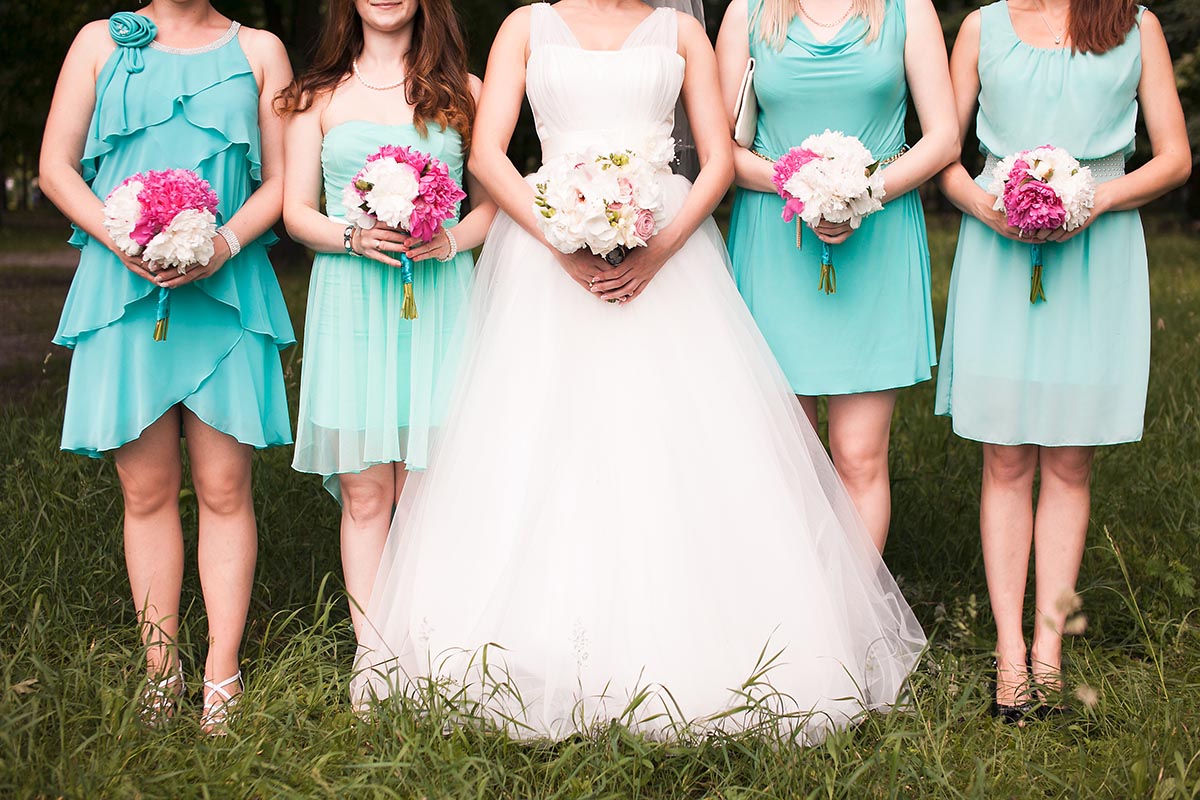 For bridesmaids who are selecting all their own jewelry, bear in mind that you should never upstage the bride. Make sure your bling choices are not too over-the-top or you run the risk of doing just that. Opt instead for understated elegance for a formal wedding, or fun, funky pieces for a more casual affair. Keeping the jewel colors in harmony with the overall color theme of the wedding will ensure you look great for the ceremony, the reception, and especially, in the pictures.
Your budget will probably be the biggest limiter of your choices, since you've likely spent a pretty penny already on your dress. Fear not, there are still thrifty options! You can find sterling silver pieces with diamond or pearl simulants that look expensive, but are relatively reasonably priced. You might also find some great vintage jewelry at a consignment shop. Whatever you decide, choose something that reflects your personality. Jewelry is, after all, a statement about you.
---
Guests
Attending a wedding is a chance to really shine in your Sunday best, and who doesn't want to make a lasting impression? A beautiful, well-fitting dress in a color that complements your skin tone may be all you need to stand out in the crowd. Sometimes, however, it's less about the clothing than the accessories you choose.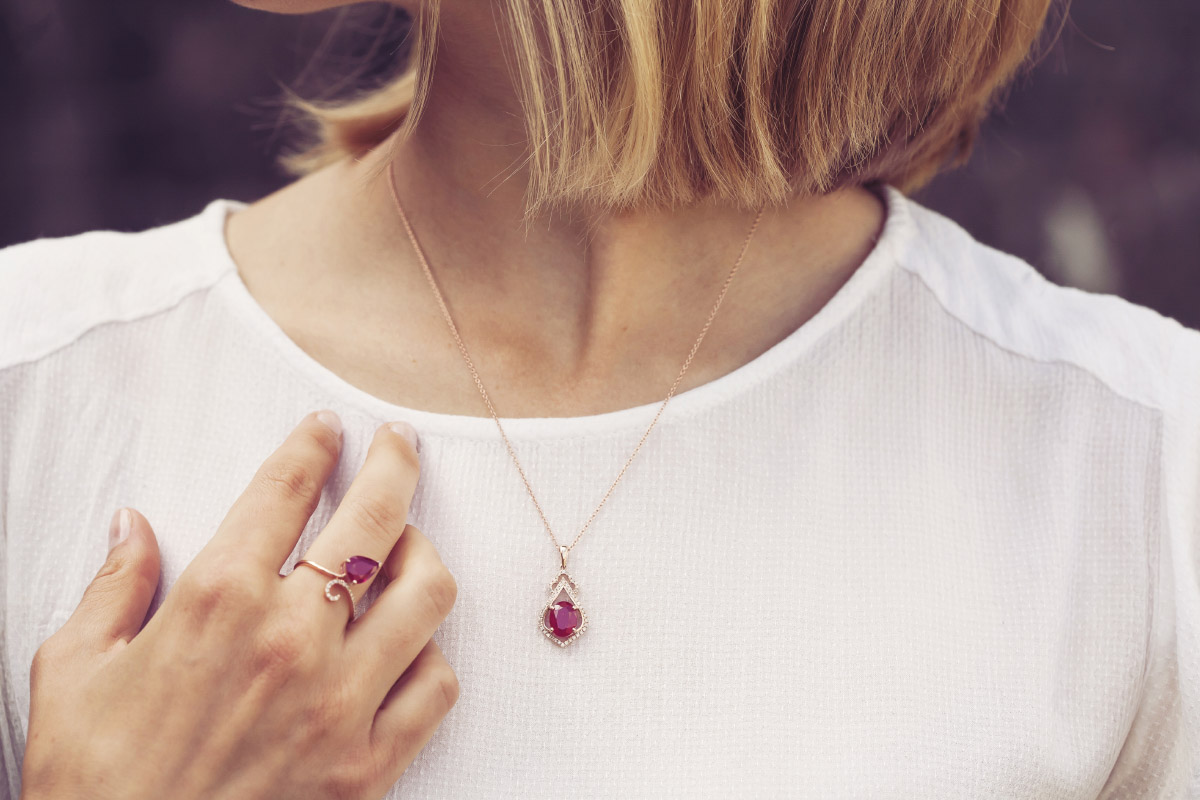 If you're lucky enough to have the perfect dress already in your closet, most likely you also have coordinating jewelry for it. Wearing what you currently own is a smart, budget-friendly option. But if you want to give that old dress a new attitude, search out fresh jewelry choices to revamp your style. Switch out your classic pearls for a colorful statement necklace. Substitute vibrant, colored gem drop earrings for the diamond studs you usually wear. Or opt for a fabulous right-hand ring in your favorite bright gemstone, and match your manicure to its color. Everyone will notice your jewelry, and no one will realize you've worn the dress before!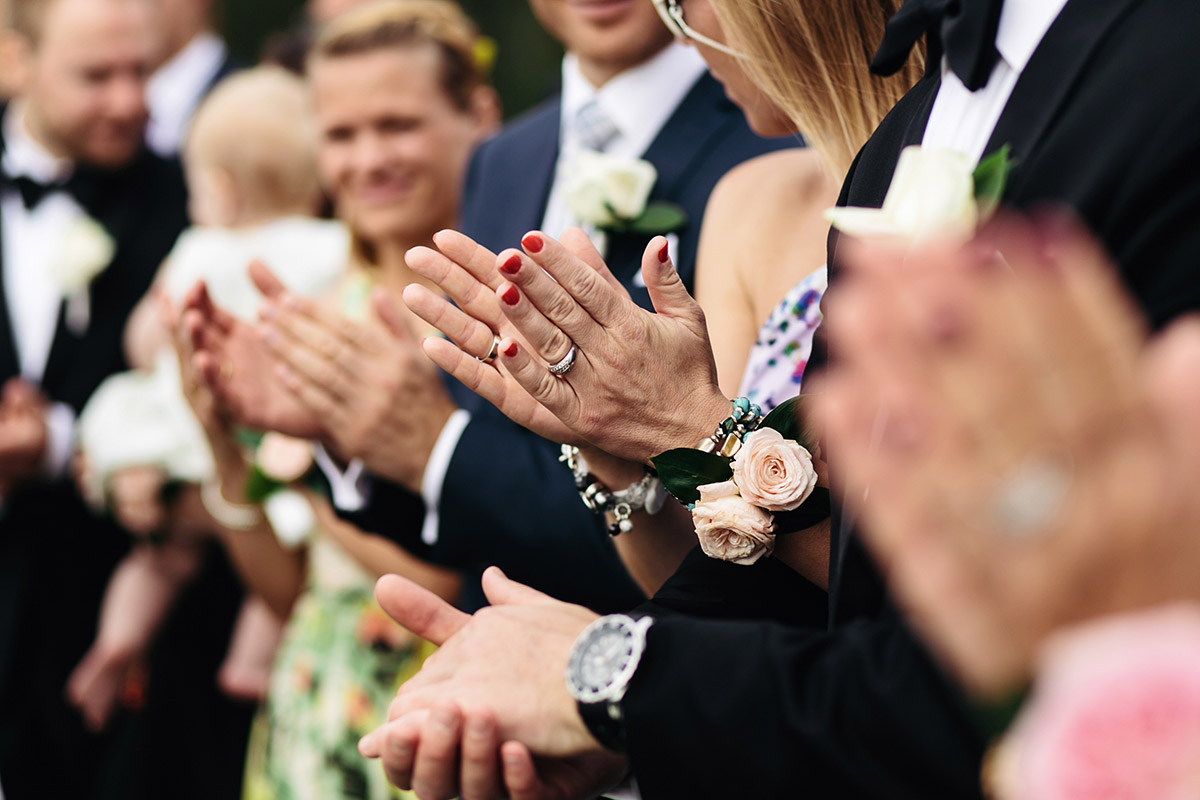 A new outfit you buy specifically for the wedding can be a fun alternative to upstyling an old frock. If your budget allows, go all out and choose new jewelry to accessorize your purchase. But if the new garb has dented your bank account, dig through your jewelry box to find the perfect accent pieces. A diamond necklace or earrings, a strand of pastel, fresh-water pearls, even a favorite fashion ring can be called into service. Most likely you already have what you need. (Read here for tips on building a versatile jewelry box.)
---
Last thoughts
Choosing jewelry is a very personal decision. It is more than a simple decoration – it is a reflection of your own unique style. Take your time, experiment, and savor the process. The most important thing to remember is to wear what you love and are comfortable in. You will enjoy yourself more if you know you look fantastic - and the perfect piece of jewelry is a great way to achieve that feeling.