Ladies, it is almost time for one of my favorite events: Ladies' Night Out! Twice a year, women from all over metro Detroit descend upon downtown Brighton for a night of revelry, comradery, and merriment. The spring 2018 Ladies' Night Out is going to be on Thursday, May 3 from 5:00pm to 10:00pm.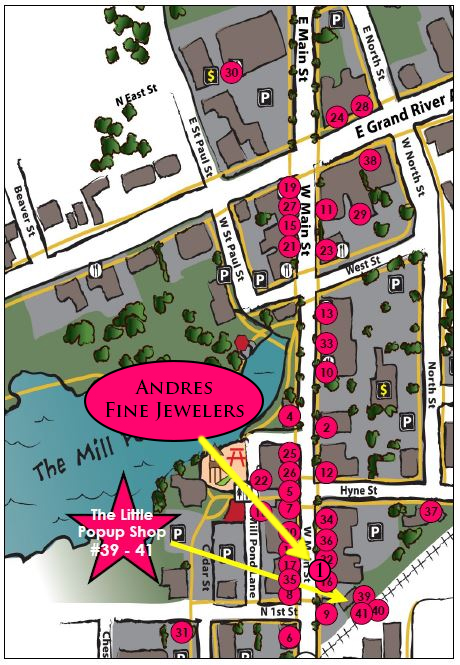 1 Andre's Fine Jewelers
        2 The Artisan's Bench
        3 ArtVentures
       4 Beverly Rae's Boutique
       5 Bink & Babs Boutique
       6 Brewery Becker
      7 Brighton Bar & Grill
      8 Burbons
      9 Buon Gusto
   10 Ciao Amici's
   11 Cooper & Binkley Jewelers
     12 CW Interiors
     13 Downtown Main Martini Bar & Grille

14 Great Harvest Bread Company
          15 Homespun Market
          16 Hush
             17 Impulse Clothing Boutique
See Below for more
All of downtown buzzes with excitement. Stop by one of the many great restaurants, take a stroll down quaint Main St. And pop in to Andre's Fine Jewelers. Here's a quick rundown of all the gaiety that awaits you at our showroom:
Drink: Your night is enhanced by free wine, which was carefully selected and is served by the owner of Andre's Fine Jewelers, Andre Duscio. Wine? Selected and served by a French man? Yes, ladies, that's right. The wine will be poured all night, until 10:00!
Eat: Nothing enhances wine like chocolate. Which is why we will be serving a variety of chocolate goodies all night. From candies to cookies and some other sweets in between, come visit us for your luxurious wine and chocolate pairing.
Win: Starting at 6:30 (I know it's hard to wait that long, but believe me, good things come to those who wait) and continuing every half-hour until the end of the night, we will be raffling off a beautiful piece of jewelry. And a word to the wise: the showroom fills up quickly, so don't wait. Come in early and often.
Shop: We will be offering special Ladies' Night Out discounts on just about everything! I would like to give specifics, but I have been sworn to secrecy. The best way to find out is to come see for yourself. And just in time for Mother's Day and prom, we have restocked our Ginger Snaps with the hottest new items for spring and summer! And I was able to help curate some new additions to our sterling silver collection that will make their showroom debut at Ladies' Night Out.
Meet: Andre's Fine Jewelers is a small business, proud to be part of the Brighton community. We take our Brighton family seriously. In fact, we take family seriously. You will be able to meet all the people that make Andre's Fine Jewelers a family, including yours truly! Come by the showroom and say hello!
See you Thursday,
Rebecca
PARTICIPATING MERCHANTS  (continued)

  18 Jack's Custard and Cakes
  19 Lu and Carl's Bar & Grill
  20 Main Street Cheese Market
  21 The Natural View Market
  22 Oh My Lolli!
  23 The Pound! Bar & Grill
  24 Real Irish
  25 Rosy's Boutique
  26 Running Lab
  27 Sassafrass Gifts
  28 Stout Irish Pub
  29 Studio West & The Paint & Pour
  30 Sushi Zen
  31 The State Bank
  32 The Vitamin Company
  33 The White Dress
  34 Tribute Salon & Spa
  35 Triple Diamonds Alpaca Boutique
  36 Two Brothers Coffee "Brew & Eatery"
  37 Wood N' Things and The Shed
  38 Youthology
  39 Brighton Lion's Club
  40 Pro-Motion Physical Therapy
  41 Sage Health & Wellness