I have always thought I was fortunate to be born in the month of February. My birthday has always been a bright spot in the middle of the frigid winter. And, being a woman who loves jewelry more than the air she breathes, being born in February has yet another perk: amethyst. Amethyst is the embodiment of Pantone's Color of the Year 2018. Each Year, Pantone, recognized the world over as the leading expert on color, selects the Color of the Year. The color for 2018 is Ultra Violet! This bold and saturate purple is the embodiment of all that is modern and forward-thinking. Pantone had this to say about their choice for 2018:
| | | |
| --- | --- | --- |
| | "Complex and contemplative, Ultra Violet suggests the mysteries of the cosmos, the intrigue of what lies ahead, and the discoveries beyond where we are now. The vast and limitless night sky is symbolic of what is possible and continues to inspire the desire to pursue a world beyond our own." | |
If you are looking for a way to keep on the cutting edge of fashion, style, and color, adding some amethyst to your jewelry wardrobe is a great place to start. Amethyst comes in a variety of hues, from pale lavenders, to deep, dark plum. Amethyst also often has inclusions, but you're not going to find those in jewelry-grade gems (unless specifically intended by the designer). The color of Pantone's Ultra Violet is the traditional purple color of amethyst. When you think of an amethyst, you are thinking of the color Ultra Violet.

Amethyst was once valued as highly as diamond (back in the mid-17th century), but now the very best specimens are considerably less expensive than diamond. Even still, as with all gemstones, there are variations in the quality and value of amethyst. The best amethysts come from the Ural Mountains; they are called Deep Siberian amethysts and their hue is strikingly similar to Ultra Violet.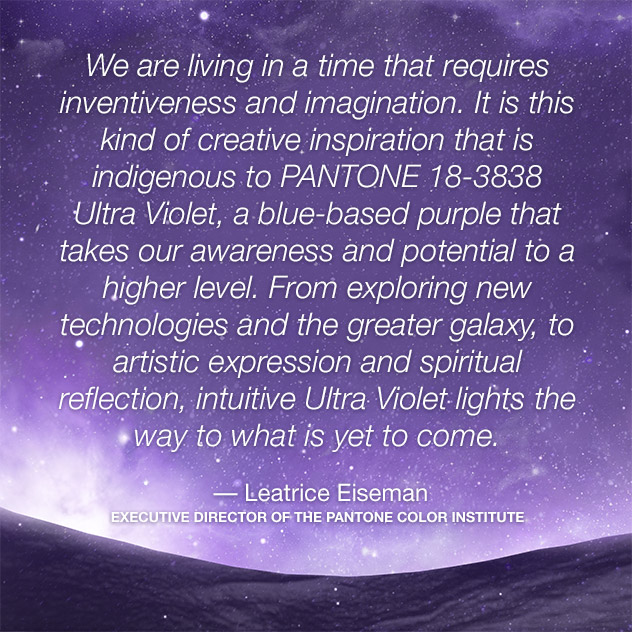 The color purple has long been a fabled color, lusted after for its association with royalty since ancient times (fun side fact: the reason purple was reserved for royalty was that dyes for fabrics were exceptionally difficult to come by, since people had to rely on natural sources for the pigments. In the ancient world, the best purple dye came from the city of Tyre, which was in present-day Lebanon. It was made from a certain kind of sea mollusk and it was exceedingly rare and luxurious). Considering that distinguished history, Pantone went on about the color purple, specifically the intriguing hue of Ultra Violet:
| | | |
| --- | --- | --- |
| | "Enigmatic purples have also long been symbolic of counterculture, unconventionality, and artistic brilliance. Musical icons Prince, David Bowie, and Jimi Hendrix brought shades of Ultra Violet to the forefront of western pop culture as personal expressions of individuality. Nuanced and full of emotion, the depth of PANTONE 18-3838 Ultra Violet symbolizes experimentation and non-conformity, spurring individuals to imagine their unique mark on the world, and push boundaries through creative outlets." | |
Let's take a moment to pause and ponder that phrase "push boundaries through creative outlets." Ultra Violet, in addition to being a beautiful color that is perfectly captured in the gemstone amethyst, also embodies the blending of science and art that a true jewelry artisan strives to achieve in each unique piece.
An artist who has chosen jewelry as their medium is uniquely positioned to be your partner in coaxing your dream out of rock, mineral, and metal. There is so much more to jewelry that the beauty of it. There are all sorts of things to consider: metal strength, gem hardness, aesthetics, cost, etc. An expert jeweler will be able to navigate these waters with you and steer you towards a piece of which you will be incredibly proud and excited to wear.

If you have a jewelry design swirling around in your head, I urge you to consider adding some amethyst to it, keeping in mind what Pantone says about Ultra Violet. When you're ready for your dream to become a reality, set up an appointment with our expert jeweler. Call our showroom at 810-225-1414 to get started.
Until next time,
Rebecca