Each Year, Pantone, recognized the world over as the leading expert on color, selects the Color of the Year. At the beginning of December, Pantone announced the 2017 Color of the Year. Without further ado, the color of 2017 is Greenery! Greenery is a vibrant and lush green. Medium in depth, it favors yellow rather than blue undertones. Pantone described Greenery this way: a "refreshing and revitalizing shade…symbolic of new beginnings..." and that it will serve as "the reconnection we seek with nature, one another, and a larger purpose."
As the world still lays in dormancy, waiting for spring's rebirth, the glory of that season can be celebrated early. Introducing this vivacious green hue is easy, in light of the flexibility in the palettes in can accompany. Glorious greens like Greenery pair wonderfully with neutrals (like creams, tans, and beiges, along with black and white), metallics (white, rose, or yellow gold, for example), and this color can be dressed up or down, making its versatility one of its best features.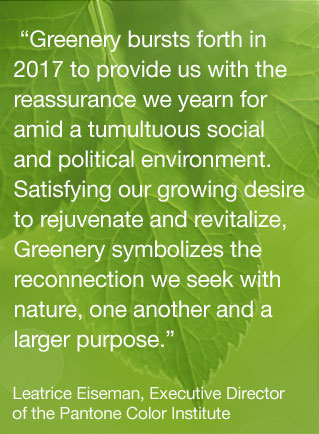 For the jewelry lover, green stones come in many forms, but peridot most closely matches Greenery. Peridot has been mined for over three and a half millennia in locations all across the globe, from the United States to Sierra Leone to China. An island in the Red Sea, St. John's Island (Zabargad in the ancient world), provided most of the peridot to ancient Mediterranean civilizations. Peridot is gem-quality olivine, ranging in color from a very pale golden green to a rich, dark green. This rich, dark green color is often confused with emerald. In fact, Cleopatra's famed collection of emeralds are actually now believed to have been peridots.
The hue of peridot most often seen is the exact color Greenery endeavors to capture. The two match beautifully. Those with whom the description of reconnection and new beginnings resonates should stop in to Andre's Fine Jeweler's downtown Brighton, MI showroom. The expert staff can guide you through finding the right peridot jewelry for you, one that captivates the imagination and stirs up delight in your heart.
For those who love green, but want a deep or richer green, there are other green jewelry-quality gems from which you can choose. Green Tourmaline comes in a variety of shades, but is generally bluer in tone than peridot. The color is not usually as saturated either, but green tournamlines can be incredibly beautiful stones. Likewise, emerald is a striking green gem. When green gemstones are mentioned, emeralds are probably the first stones to come to mind. They are regal, rare, and luxurious. Emeralds usually embody the deep, dark, purest green color of summer grass, with perhaps just a hint of blue. Whichever green is your desire, the jewelry experts at Andre's Fine Jewelers can help you.